Events
2023 Halton Freedom Celebration Festival
Click Here to download the pdf of the 2023 festival poster.
Our 2023 Halton Freedom Celebration Festival celebrating our 189th year of Emancipation throughout the British Commonwealth, brings together musical acts, children's activities, cultural art, food, crafts, and heritage, historical, genealogical, and multi-cultural groups, promoting inclusivity and community integration. The multi-cultural ambience is infused with Canadian R&B, Reggae, Soul, Funk, African, Ska, Soca and Pop Artists with some of our country's finest musicians.
Click here to learn for more information about the 2023 participating musicians.
FREE ADMISSION
Click Here to download the pdf of the 2023 festival schedule.
This exhilarating event will take place on Saturday, August 5th at Spencer Smith Park in Burlington, Ontario, Canada (the first city in the world to acclaim August as Emancipation Month). Festivities are from 1 p.m. to 11 p.m. Please bring lawn chairs, sunshade, appetite, and dance wear for optimal enjoyment. See you there!!!!
6th Annual Emancipation Art Exhibition
June 21 - August 27, 2023
Helson Gallery
9 Church Street,
Halton Hills, ON,
L7G 2A3


Video and photography created by regsepiclife@gmail.com
Multicultural Celebration of 2023
Open call for vendors.

August 5, 2023

2022 HBHAS Halton Freedom Celebration Festival
Thank you for having joined us for a day of total pleasure!!! Exquisite R&B, Soul, Funk, Reggae, Salsa, African Dance and Jazz Fusion complimenting Cultural Crafts, Tasty Treats (Food Trucks and Multi-Cultural Vendors), Community Services, Youth Activities and Workshops.
This free festival was exquisite with multi-cultural crafts, food trucks, art, fashion, accessories, cultural and heritage vendors, youth activities and enormous ambience.
On July 30, 2022 the Halton Freedom Festival showcased musicians including Blackburn –2016 Juno runners up and recognized by Rolling Stone Magazine as the best blues band in Canada (2015), enslaved descendants whose father, Bobby "Dean" Blackburn, is recognized on the Mississauga Walk of Fame for bringing R&B into Canada and member of the first black family in Brampton, Ontario; Dejehan Hamilton (MC) aka. Luckystickz (with band) who is Berklee College of Music's 1st Steel Drum graduate supporting his scholarship in drumming, represents Berklee University globally, has a past playing with Harry Belafonte and is a HBHAS Board Director; and Michael Dunston, renowned vocalist whose group The Lincolns are recognized as the Best R&B band in Canada and Soul Stew (Bamboo's original home band of 40+ years), We were also pleased to present 11 x Canadian Music Award recipient, Errol Woodward and his Reggae Band to our audiences and the exceptionally talented Neema Children's Project from Uganda - 19 talented orphans dancing, singing and drumming towards fundraising to send school supplies to hospitals and orphanages back home. We are please to have join us this year: Garnetta & Dagroovmasters - a high energy show band that plays and sing the genres of Blues, Classic Soul & Funk, and a reflection of Canada's multicultural society! Garnetta was lead vocalist and drummer for a Toronto's only female reggae band Sweet Sensation, performing on the same stage with Platinum/Grammy Award artists like Maxi Priest, Shabba Ranks, Shaggy, Gregory Issacs and Sean Kingston, Platinum/Grammy award Soul legends, Percy Sledge, Dorothy Moore and The Manhattans, and Carlene Ling, (aka Vanda Li) Founding Director, Bling Entertainment & "Black African Caribbean Canadian Artists Unite" (BACCAU) who perform for Black Music Month (June) and Black African Caribbean Canadian Appreciation Month.
Freedom Celebration Festival 2022
Video and photography created by @radsportphotography
Spencer Smith Park


Burlington, Ontario
Saturday,

July 30, 2022


Noon - 11 p.m.
On July 22, 2022 HBHAS was honoured to host the 2022 Halton Freedom Festival, Emancipation Pan African Flag-Raising Ceremony celebrating the 1834 British Emancipation Act which freed all colonial slaves, initiated by Ontario's First Lieutenant Governor, John Graves Simcoe through the Anti-Slavery Act of 1793. It is appreciated that multi-cultures helped transport many of the "freed" slaves to Canada both through the Underground Railroad and throughout the North American continent. The Pan African flag is representative of all blacks of African Ancestry.
The HBHAS is appreciative of being recognized as the first city in the world to acclaim August as Emancipation month. This acclamation took place at our 2018 Halton Freedom Celebration Festival and was acknowledged at a Dr. Julius Garvey presentation in tribute to his father on Marcus Garvey Day, at Toronto's City Hall (2019). The City of Burlington further proclaimed, at the HBHAS flag-raising ceremony in 2021, recognizing August 31st the International Day for People of African Descent in alignment to the UN General Assembly 2020 resolution sponsored by 52 countries, and a proclamation recognizing August 1st as the first Canadian National Emancipation Day.


2022 HBHAS EMANCIPATION ART EXHIBITION
"ART has the power to change the world, the power to inspire, the power to unite people in a way that little else can. ART speaks to people in a language they understand.
ART can create hope where there was once only despair. Art is an instrument for peace …" – our most predominant goal and aspiration.
Nobel Laureate, Nelson Mandela (Paraphrased)
2022 HBHAS Emancipation Art Exhibition
Video and photography created by @radsportphotography
HBHAS 5th Annual
Emancipation Art Exhibit
July 27 - Sept. 11, 2022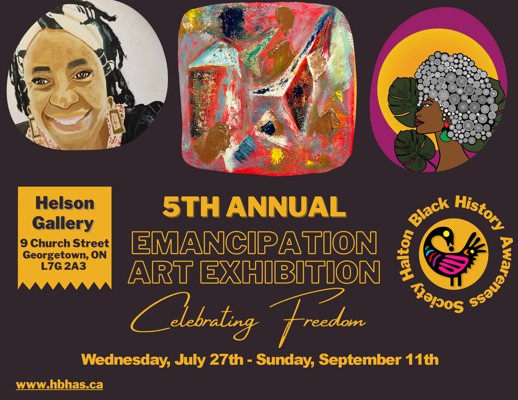 "Black Art tells the story of history, pain, persistency, humility, family, creativity, harmony, hope, love, and life, as shown through Halton Black History Awareness Society's annual Emancipation "Freedom" Art Exhibition. The Artists' portrayals illustrate the transition of life and the spirit of freedom conquered." Enjoy the artistry and bios of our esteemed contributors to the Emancipation Art Exhibition.
Dennis Scott, Chair, Halton Black History Awareness Society

The Halton Black History Awareness Society (HBHAS) produces and promotes inclusivity events focusing on supporting the implementation of cultural history into the educational curriculum and public mind-set, and celebrating Canadian Black History contributors, cultures and community integration. We celebrate Halton's cultural history through dance, art, music, spoken word, historical literature, theatre and information/educational forums and workshops. At our Halton Freedom Celebration Festival, held annually on the August Civic weekend Saturday, you'll experience exceptional multi-cultural ambience infused with Cultural Crafts, Art in the Park, Cultural designer fashions and accessories, exquisite food, and youth and children's activities and workshops which complements the best in R&B, Reggae, Soul, Funk, African, Cuban, Jazz Fusion, Ska, Soca and Pop.

Our Emancipation Art Exhibit, "Celebrating Freedom" is held annually at various Halton locations throughout the month of August. Here you will meet a number of exquisite Canadian Black Artists and experience their artistry of love, bondage, beauty, family, and expression in illustrating their Emancipation. The HBHAS welcomes you to enjoy this enlightening free exhibition in kicking off our annual Halton Freedom Festival. 
The HBHAS Speakers' Forum is held throughout the year, encompassing theatre, spoken word, Canadian Black history presentations; spoken word, cultural education in diverse professions: heritage, genealogical and black history forums and workshops, inclusivity and diversity workshops and presentations, and mentorship programs. The Speakers are by subject matter experts, historians, genealogists, cultural and inclusivity educators, and multi-talented actors and actresses. Guests are constantly stating that they've learned more here in one session that throughout their careers or history. Appreciating that a lot of North America's rich black history was hidden or manipulated, these programs are extremely enriching and educational. We welcome individuals interested in discussing enhancement to their programs or presentations to reach out to hire speakers, performers, and musicians at
hbhas2015@gmail.com.
Video
2019 Halton Freedom Celebration Festival
It is the vision of the Halton Black History Awareness Society (HBHAS) to celebrate Halton's diverse cultures through Cultural Education, Cultural Enhancement and Cultural Entertainment. The Halton Black History Awareness Society is intent in supporting Halton's potential in being a Cultural Capital within Canada.
All venues are open to the public and promote inclusivity. The HBHAS constantly collaborates with a number of community partners in presentations and workshops within schools and community centers throughout the year towards the implementation of cultural history into our educational cultures.  Thank you for your interest.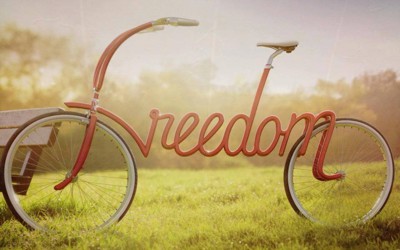 Click Here for Past Events
Please ... help fund this worthy project with a donation!