Events
2018 Halton Freedom Festival
July 10th - September 1
The Halton Black History Awareness Society (HBHAS) has just successfully completed its second year of inclusivity events focusing on supporting the implementation of cultural history into the educational curriculum and public mind-set, and celebrating Canadian Black History contributors, cultures and community integration. Celebrate Halton's cultural history through dance, art, music, spoken word, historical literature, theatre and information/educational forums and workshops. We are intent to support Halton's potential in being a Cultural Capital within Canada.
It is the vision of the Halton Black History Awareness Society (HBHAS) to celebrate Halton's diverse cultures through Cultural Education, Cultural Enhancement and Cultural Entertainment.
All venues are open to the public and promote inclusivity. We are also collaborating with a number of community partners in presentations and workshops within schools and community centers throughout the year towards the implementation of cultural history into our educational systems.
Events: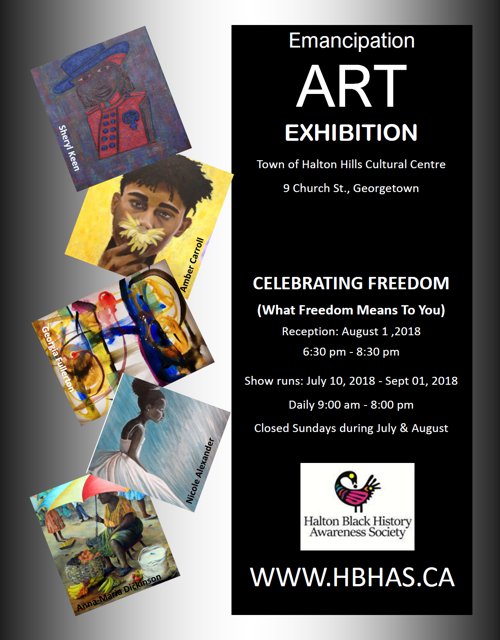 The HBHAS Emancipation Art Exhibit took place at Halton Hills Cultural Centre in Georgetown, Ontario from July 10 to September 1st incorporating Canadian Artists' and Speaker presentations.


Click here to view a list of the artists who contributed in 2018.
HBHAS Halton Freedom Celebration Festival
The annual HBHAS Halton Freedom Celebration Festival consists of exquisite music and dance acts, youth and children's events, artistic/musical and historical forums, as well as and extensive marketplace of cultural cuisine and memorabilia, historical and community literature and exceptional multi-culture ambiance. The 2018 event took place on August 4 at the Spencer Smith Park in Burlington, Ontario, Canada.
"Community, Roots & Culture" Symposium
Thank you to everyone who took time out of their busy schedule to attend this event.
We sincerely appreciate your support!
The annual Speakers' Symposium includes historical, genealogical, and cultural speakers, authors, music and spoken word plus a marketplace of historical book suppliers and community / cultural vendors.
The 2018 Speakers' Symposium was hosted at the Art Gallery of Burlington on June 13, 2018.

Introducing: Leslie Lorraine McCurdy
"Actor, Playwright, Dancer, Choreographer, Singer, and Mentor; recipient of the 2014 and 2000 Mayor's Awards for "Artist of the Year" and "Outstanding Performing Artist" of Windsor Ontario respectively, Bachelors of Fine Art in dance with teaching certification from the University of Michigan and former choreographer and teaching assistant to Judith Jamison of the Alvin Ailey American Dance Theatre. Presenting: Things My Fore Sisters Saw - a one-woman play, where you will meet four women of African Descent who affected change in Canada: Marie-Joseph Angelique, a slave who was said to have burned down "half" of Montreal from whom we have the first slave narrative in North America; Rose Fortune, the first "policewoman" in North America who helped "freedom seekers" settle in Annapolis Royal Nova Scotia; Mary-Ann Shadd, the first North American woman to publish and edit a newspaper, amongst other things; and Viola Desmond who refused to give up a seat to segregation well before the celebrated Rosa Parks and who was recently named as the new face of the Canadian $10 bill. Experience the theatre production of how each of these women affected change in the Canada of their time and ours."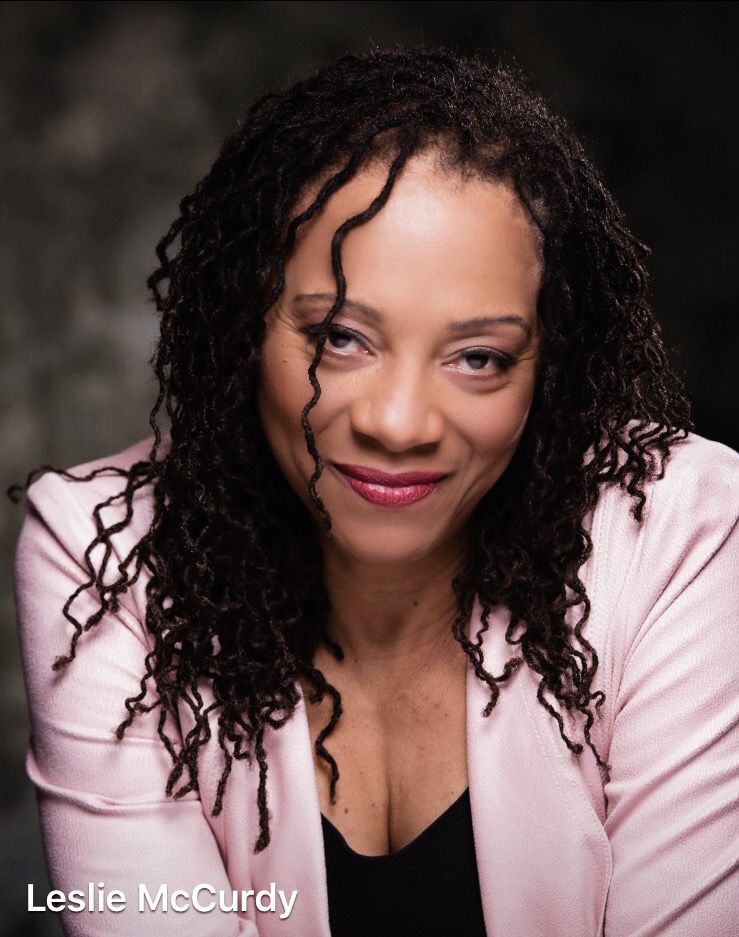 "I witnessed a performance that was beyond belief, completely mesmerizing, and almost indescribable in terms of the emotions it brought out in me…Ms. McCurdy's performance is one of the most amazing, compelling and thoughtful that I have ever had the good fortune of witnessing…something to be experienced by everyone…one will walk away changed forever!"
 Elizabeth A. Fellows, Birmingham, Michigan
Please ... help fund this worthy project with a donation!